Youth delegation from Hong Kong visits Tibet
2017-06-16 09:59:13 | From:China Tibet Online
On June 8, a youth delegation comprised of 30 young people and three staff members from the University of Hong Kong and Chinese University of Hong Kong started their six-day exchange program in Tibet.
This event was a return visit after a youth delegation from Tibet visited Hong Kong this May.
The youth exchange program between Tibet and Hong Kong was established in 2003. Each year, both sides would select excellent young people to participate in the exchange visit. Thus far, there have been 15 exchanges, with more than 700 youths from the two sides having participated.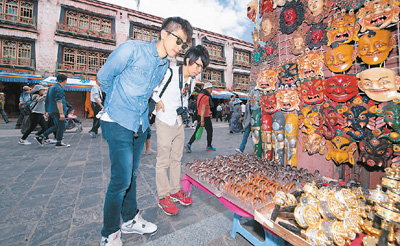 Members of the Hong Kong Youth Delegation enjoy special Tibetan souvenirs in Barkhor Street in Lhasa, capital of Tibet. [Photo/Peopls's Daily]
Related News
;  

The Tibet Autonomous Region of China has witnessed a special contest combining the ancient board game Go and car rally, during which six Chinese top Go players, including world champion Ke Jie, not only played with each other but also acted as navigators for the r

 

Prayer flags are said to be blessings of devotees dancing in the wind.

 

Southwest China's Tibet Autonomous Region is set to see a record influx of investment from central state-owned enterprises (SOEs) as the region has signed cooperation agreements with 36 central SOEs for 347 projects.