Qinghai Tibetans perform "ze rou" dancing
2017-04-09 09:59:00 | From:China Tibet Online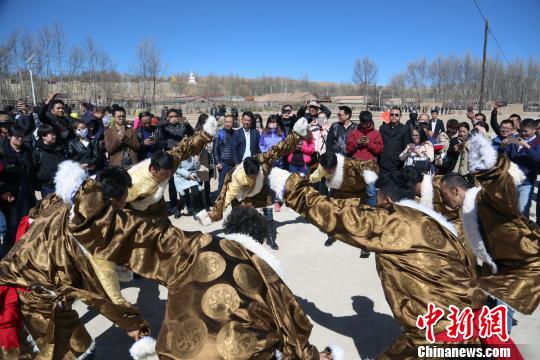 On March 31, villagers from Hainan Tibetan Autonomous Prefecture in northwest China's Qinghai Province performed a folk dance called "ze rou". "Ze rou" is often performed on festive occasions, such as weddings, welcoming ceremonies, birthdays, and having births. Locals have been performing this kind of dancing with songs for more than 400 years. In 2008, "ze rou" was approved by China's State Council to be included in the national intangible cultural heritage list. [Photo/China News Service]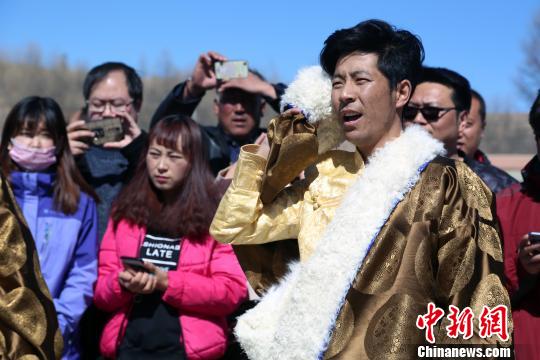 On March 31, villagers from Hainan Tibetan Autonomous Prefecture in northwest China's Qinghai Province performed a folk dance called "ze rou". "Ze rou" is often performed on festive occasions, such as weddings, welcoming ceremonies, birthdays, and having births. Locals have been performing this kind of dancing with songs for more than 400 years. In 2008, "ze rou" was approved by China's State Council to be included in the national intangible cultural heritage list. [Photo/China News Service]

On March 31, villagers from Hainan Tibetan Autonomous Prefecture in northwest China's Qinghai Province performed a folk dance called "ze rou". "Ze rou" is often performed on festive occasions, such as weddings, welcoming ceremonies, birthdays, and having births. Locals have been performing this kind of dancing with songs for more than 400 years. In 2008, "ze rou" was approved by China's State Council to be included in the national intangible cultural heritage list. [Photo/China News Service]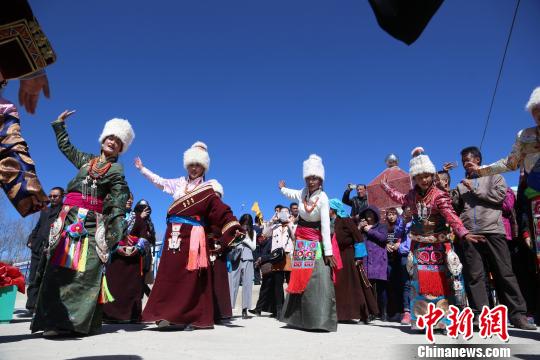 On March 31, villagers from Hainan Tibetan Autonomous Prefecture in northwest China's Qinghai Province performed a folk dance called "ze rou". "Ze rou" is often performed on festive occasions, such as weddings, welcoming ceremonies, birthdays, and having births. Locals have been performing this kind of dancing with songs for more than 400 years. In 2008, "ze rou" was approved by China's State Council to be included in the national intangible cultural heritage list. [Photo/China News Service]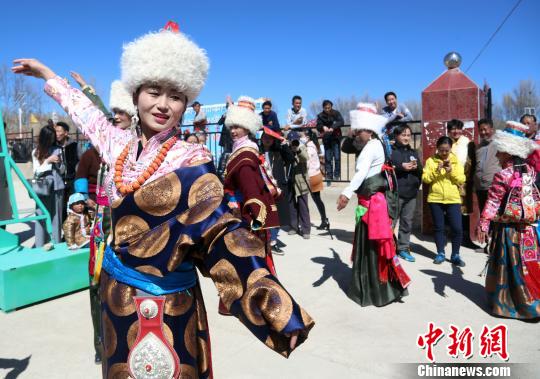 On March 31, villagers from Hainan Tibetan Autonomous Prefecture in northwest China's Qinghai Province performed a folk dance called "ze rou". "Ze rou" is often performed on festive occasions, such as weddings, welcoming ceremonies, birthdays, and having births. Locals have been performing this kind of dancing with songs for more than 400 years. In 2008, "ze rou" was approved by China's State Council to be included in the national intangible cultural heritage list. [Photo/China News Service]
Related News
;  

Meaning "source of the Yellow River" in Tibetan, Madoi ushered in its first Spring snow on March 10. Covered by stunning white snow, the County seems a fairy tale world.

 

Wild wolves are photographed in Madoi County, northwest China's Qinghai Province recently.

 

Whooper swans migrate to the Qinghai Lake from the far north each year in October, and fly back when the ice melts in April the following year.