Tibetan team visits UK to promote culture
2017-03-30 09:51:47 | From:China Daily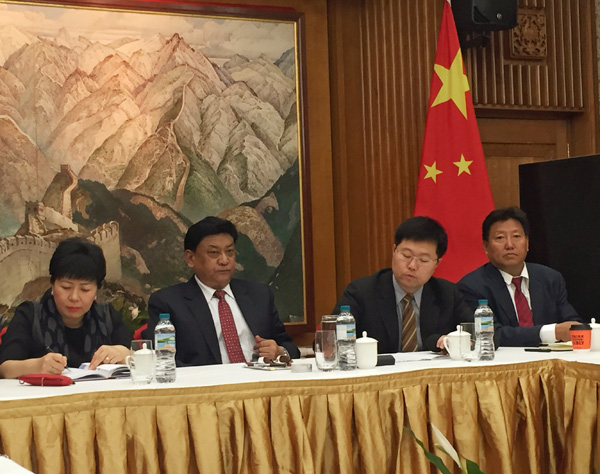 Baimachilin (second left), member of the Standing Committee of the National People's Congress, speaks with journalists at Chinese Embassy in London on Tuesday. [Photo/chinadaily.com.cn]
A delegation from China's Tibet autonomous region has made a four-day visit to the UK to promote Tibetan culture and the achievements reached during the region's development.
The group was led by Baimachilin, member of the Standing Committee of the National People's Congress, along with Tongga, deputy to the People's Congress of the Tibet autonomous region, Wangdui, mayor of Nyingchi City of the region, and Jinmei, Party secretary of Dingqing County, Changdu City of the region.
The Tibetan delegation started its UK visit on March 25 in Manchester before flying out from London on Tuesday. During the trip, they had in-depth exchanges of views on the issues of common interests with members of the UK Parliament and local legislatures.
Speaking at a media briefing in London on Tuesday, Baimachilin, the chair of the delegation, said: "The purpose of our visit is to strengthen the exchange and communications between the National People's Congress of China with the UK Parliament, as well as the exchanges with the local legislatures."
He said: "For the past few days, we had given a brief introduction to the latest development in the Tibet autonomous region, as well as the work and efforts that have been made by the National People's Congress and the congress of the region."
Since 1978, the Tibetan local legislature has successfully passed more than 310 local laws and regulations, many of which are closely related to ethnic and religious affairs.
Tongga said: "The enforcement of these laws and regulations has provided legal guarantees and support for the spiritual well-being of the Tibetan people. In this sense, the traditional culture of Tibet has been well preserved."
Tongga said while Tibet had opened its doors to the outside world, the delegation was also keen to open Tibet's eyes to see what the rest of the world was really like, adding: "We want to open our hearts to help you better understand the basic facts and latest development of Tibet."
On Monday, the delegation met Tibetan expatriates living in the UK and took part in a seminar at the University of Westminster where they exchanged views with scholars and students on various Tibet-related topics including history, development, environment, religion and society.
Related News
;  

A top government official of the Tibet autonomous region on Monday said Tibet is "full of vigor" and its people are confident that they are on par with others in the nation to achieve a "moderately prosperous society".

 

The Tibet autonomous region plans to spend 30 billion yuan ($4.3 billion) improving people's livelihoods this year, according to the region's financial department.

 

"I am proud my home village has preserved its traditional style," said Tashi Yangjen, the only deputy to the 12th National People's Congress (NPC) from the Luoba ethnic group.