Taiwan companies participate for the 1st time in Tibet Exhibition
2016-09-11 10:05:24 | From:China Tibet Online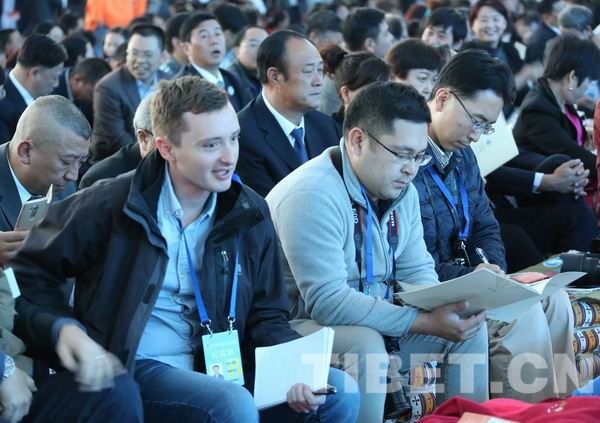 Merchants from Taiwan will participate in the 3rd China Tibet Tourism and Culture Expo, China News Agency reported on September 8.
The Tibet Autonomous Region government vice secretary Yangrui Chang explained that this year there are 204 companies participating in the exhibition product promotion activities including 8 companies from Taiwan
There will be 109 companies from Nepal participating and even Indian companies will be there for the first time. Yangrui said that the exhibition is conducive to construction of the "Belt and Road" initiative especially in the regard of opening channels to South Asia while comprehensively introducing Tibet.
According to report, there will be about 500 international guests participating in this exhibition, which makes for a 5-fold increase when compared to last year. People are coming from the U.S., France, the Republic of Korea and Japan as well as other countries. Amongst which 219 Nepalese participates have already arrived to Tibet.
Rajesh Kazi Shrestha, the Nepal-China Merchant Committee head, said that last year the exhibition solved some of the unemployment issues that arose after last year's earthquake and he hopes that this year more stimulation of sells for Nepalese plastics Thangkas and cloth can be brought about to China.
The Tibet Autonomous Region executive deputy secretary general Wenpei Wang said that "at present, investment and commerce stimulation, that is trade orientation projects are moving forward in an orderly fashion. There are more than 100 contracts that have been signed and when compared with the second exhibition (which brought about a total of 75.645 billion yuan) there are significantly more total investments this time, and it is expected that it will break through the 100 billion mark this time.
Related News
;  

The Third China Tibet Tourism Culture Expo will be held in Lhasa from September 10 through 16, Chinatibetnews.com reported.

 

"The expo is wonderful," said Jim, from Boston, U.S. who visited the exhibition of the First China Tibet Tourism and Culture International Exposition held in Lhasa from Sept. 25 to 27,2014.

 

The Tibet Landscape Avenue, a special section in China Tibet Tourism and Culture Expo, shows the great beauty in seven regions of Tibet Autonomous Region.