Shigatse Ethnic Art Delegation debuts in Switzerland
2016-02-23 10:17:47 | From:China Tibet Online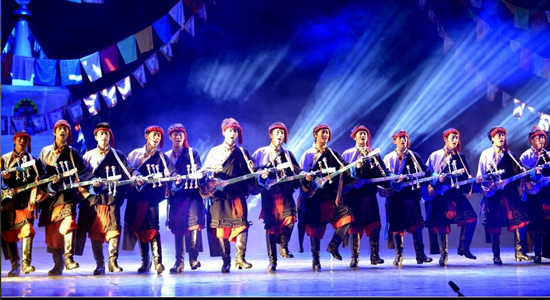 On Feb. 20, the Shigatse Ethnic Art Delegation of southwest China's Tibet Autonomous Region made a debut at the Zurich International Conference Hall, performing cultural programs with strong Tibetan flavor for over 300 overseas Chinese and foreign friends.
The performance began with the magnificent and shocking Tibetan opera Wenbadon. The male solo Auspicious New Year, Tibetan folk song Ode to Mount Qomolangma and other programs expressed people's wish for happy life, bringing the audience to the beautiful snow plateau at one stroke. The folk dances Homeland Spring and Ancient Calling and so on showed the vigour of young Tibetans, added jubilant atmosphere to the festival and demonstrated the long history of the ethnic culture.
After the performance came to an end, lots of overseas Chinese went up onto the stage to present Hada to the actors to thank them for their wonderful, touching performance during the Tibetan New Year.
According to Tenzin Ngodrup, head of the delegation and director of China Association for Preservation and Development of Tibetan Culture, the selected programs of this performance feature strong ethnic flavor in both form and content and some of them have been included into the national intangible cultural heritage list.
The traditional Tibetan culture is part of Chinese culture, whose inheritance and protection are highly valued. The director also expressed his hope that the traditional Tibetan culture can bring deep love and blessings for overseas Chinese.
At the invitation of the Chinese Consulate General in Zurich and Liechtenstein, Shigatse Ethnic Art Delegation arrived in Zurich, Switzerland on Feb. 19.
In next few days, the delegation was also scheduled to go to Liechtenstein and Germany to take part in a series of celebrations for Chinese Spring Festival and Tibetan New Year.
Related News
;  

Tibet Autonomous Region NPC Standing Committee Chairman, Padma Choling, led an NPC delegation to France beginning on the 9th.

 

A Tibetan cultural exchange delegation on Friday concluded their two-day visit to the U.S. State of Illinois after presenting a modern Tibet to local officials, scholars and others.

 

A visiting Tibetan cultural exchange delegation on Saturday wrapped up their four-day visit in Britain, during which the delegates had a wide range of engagements with British officials, scholars and the public.