Tibetan CPPCC religious member: We can help spot fraudulent Rinpoches
2016-01-28 08:57:36 | From:China Tibet Online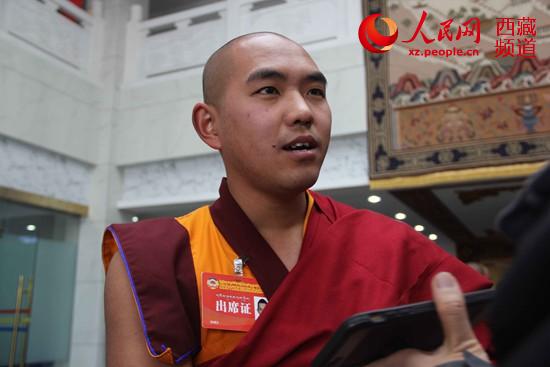 Photo shows post-90s Rinpoche Tsangsokling Thubten Drakpa from Chengguan, Tibet receives an interview.[Photo/People's Daily]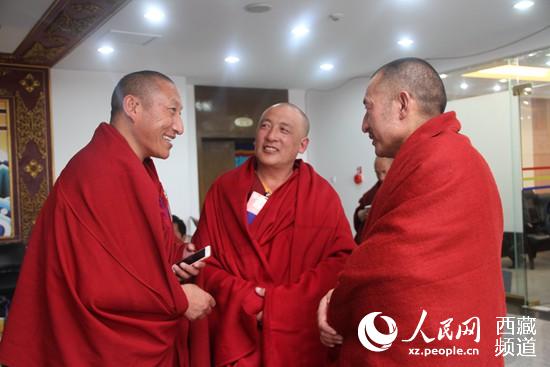 Photo shows three members of the Tibetan People's Political Consultative Conference's religion sub-committee discuss meeting reports.[Photo/People's Daily]
On January 26th, panel discussions were held at the fourth session of the 10th Tibetan People's Political Consultative Conference. The reporter interviewed the religion sub-committee members on their opinions towards fake Rinpoches.
"Whether it's China or abroad, no matter the era, when the righteous is not promoted, evil will look for a way in." Palden Dunyu, Deputy Director of the Tibetan Buddhist Association and Director of the Buddhist Association of Shigatse said promoting authentic Rinpoches and dispelling fraudulent Rinpoches works the same way. Heresy cannot succeed if authentic doctrine was enhanced.
Palden Dunyu emphasized that authentic Rinpoches need to be recognized according to historical customs and Tibetan Buddhism doctrines, and have to be nationally certified by the government. "Otherwise fraudulent Rinpoches will damage the purity of Tibetan Buddhism. Rinpoche Baima Aose in Hong Kong has not only damaged Buddhism but hurt traditional Chinese culture as well. It's not right."
Rinpoche Tsangsokling Thubten Drakpa from Chamdo, Tibet said, "I think everyone can help spot fraudulent Rinpoches. The local United Front Department and the Committee of Cultural and Historical Data need to rigorously supervise the work." He said fraudulent Rinpoches are harmful to society, harmful to Buddhism, and damage the image of Tibetan Buddhism and could even lead to social instability.
"Now that we have the Rinpoche search engine, we can use it to verify authentic and fraudulent Rinpoches. I looked up myself and found the information to be accurate. This is a wonderful system." Tsangsokling Thubten Drakpa said.
Related News
;  

Tibet welcomed a record 20 million tourists in 2015, according to sources at the autonomous region's "two sessions" .

 

FilephotoofMaXiaoguang,spokesmanfortheStateCouncilTaiwanAffairsOffice[Photo:china.com.

 

IranianPresidentHassanRouhanispeaksatapressconferenceatthepresidentialpalaceinTehran,Iran,Aug29,2015.[Photo:Xinhua]Iran'spresidenthasstartedhisvisittoFrance,thesecondstopofhisEuropeantour.