Resumed Gyirong Port boosts trade with Nepal
2016-01-05 14:05:21 | From:China Tibet Online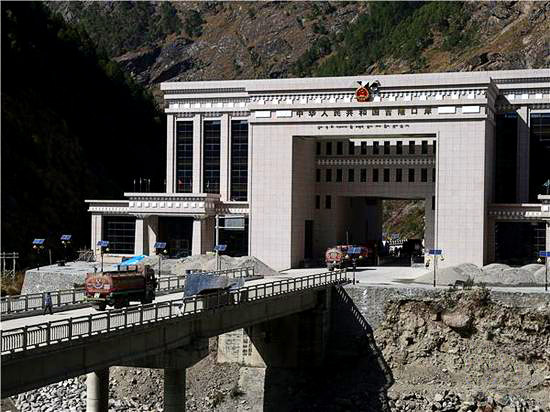 Since Gyirong Port opened again on Oct. 13, 2015 after being closed for six months due to the earthquake, it has revived trade with Nepal, people.cn reported.
According to the Lhasa Customs Agency, from Nov. 10 to Dec. 10 of 2015, Gyirong Port has received 179 export declarations, with total export value of 260 million yuan (32.26 million US dollars), and trade volume of 5,965 tons.
The Lhasa Customs Agency has actively helped the restoration and reconstruction of Gyirong Port. Currently, the port has mostly normalized export activity at the China-Nepal border, sending emergency supplies in bulk to Nepal, such as fuel and grains, textiles, and small household appliances.
Gyirong has become the main channel for China-Nepal trade, and got ready for being a "major avenue for opening up to South Asia".
Related News
;  

On Oct, 29, 2015, the first Chinese tourist who made his way to Kathmandu via Gyirong Port was spotted in a Chinese restaurant in Nepal.

 

The Gyirong Port will officially open on Oct. 13, but visitors can't go to Nepal via the port temporarily.

 

"Hello boss, can I get a discount on this string of prayer beads?" Cidan is the only Nepali businessman to remain in Tibet's Gyirong town after the 8.1-magnitude earthquake in Nepal. His shop now once again bustles with activity.