A family hotel puts Tibetan culture on the menu
2017-02-01 11:18:44 | From:Xinhua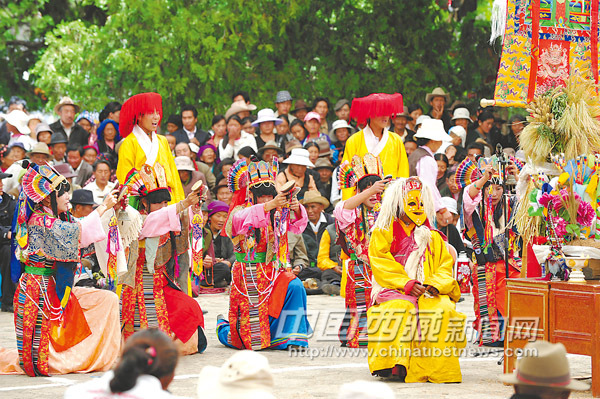 After running a family hotel in Tibet for 10 years, Losang Jigme feels it is time for him to try something new.
At only 28, Losang Jigme already manages two hotels with 30 rooms altogether in Lhasa, capital of southwest China's Tibet Autonomous Region.
When the hotels are closed this winter, the off-season, he plans to spend some time learning about Tibetan Buddhism. "I plan to provide classes on Tibetan culture including, for example, the local style of yoga," he said.
Losang Jigme wants to profit from tourists' growing curiosity about Tibet. "Tourists today do not just take scenic photos," he said.
His inn opened in 2006, and the branch a few minutes walk away in 2008. They did well in the high season from May to November last year, with nearly all rooms booked during the period at an average price of 690 yuan (100 U.S. dollars) per night. He would not reveal his company accounts, but said he paid about 50,000 yuan in tax last year.
Lhasa has 141 starred hotels and more than 100,000 people work at least some of the time in tourism. As transportation and infrastructure have improved, so has tourism with 30 million expected in 2020, bringing in 55 billion yuan and employing 500,000 people.
Losang Jigme's father was raised around 100 km away from Lhasa and moved to the city in 1982. As the eldest son in the family, Losang Jigme started working in the hotel after graduating from high school.
Having hosted foreign tourists for a long time, Losang Jigme's English is fluent and he knows what tourists want very well. "Foreign tourists tend to stay for four nights, the first three to adapt to the altitude and one more night before leaving Lhasa," he said.
Business was slack in 2015 because of the earthquake in Nepal and the border area of Tibet. Tourists were banned from visiting Mount Qomolangma, the top destination for foreign tourists.
Business picked up in 2016 when tourist numbers from Europe and the United States began to recover, and Losang Jigme saw fresh faces from Southeast Asia. He plans to add a new foreign language to his repertoire soon.
Around 10 p.m., Losang Jigme is usually in reception chatting to guests eager to share the stories of their day. It is the best time to make friends, he said.
"My hotel is like a school. I have met and served thousands of people, and I think it will be time for me to graduate when the number reaches 100,000," he joked.
Related News
;  

In a thangka painting, not only the main character, but also every single detail is drawn vividly.

 

The "Shangri-La Tibetan Costume Cultural Exhibition" is held at the China Museum for Fujian-Taiwan Kinship, which will run until February 28, 2017.

 

The mobile APP software (Tibetan version) for The Tibetan Medicine Dictionary can now be downloaded for free.