Tibetan folk stone carving culture: faith engraved into Mani stones
2016-03-15 11:32:26 | From:China Tibet Online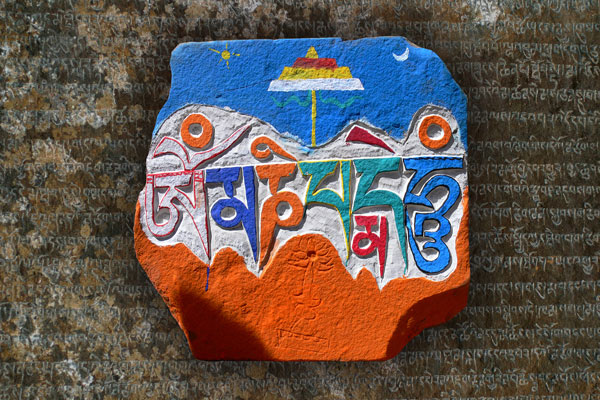 On Qinghai-Tibet Plateau, there are all kinds of large and small Mani stones. The sculptors, either going down on their knees or bowing on their heads, sculpt with nail hammers or make decorative lines with electric drills. Amongst them, there are not only faithful Buddhist monks, but also folk artists who living on Mani-stone carving. The 48-year-old Tsering Naimei is one of those folk artists.
On an early spring day, Tsering Naimei was concentrated on engraving in a work room, gracefully rotating his hands around the electric drill. Quickly lines emerged in the stone.
"This is a metaphorically lucky six syllable Mantra, I carve between two and three hundred per year," he said.
Since he has carved for six years only in this particular type, Tsering Naimei is able to directly engrave it without drafting by pencils.
He is from the Changjiangyuan Village in the Golmud City of Qinghai province. Before 2004, all of the villagers in this town lived in the Dangla Township at an altitude of 4,700 meters which is cold and low in oxygen. Since the development of the Sanjiangyuan ecological protection construction project, 128 households from Dangla moved down to the Golmud which sits at 3,000 meters. There they have started a new life.
"When I first started engraving I had to use a pencil to trace the lines, later on, I started to rely on my own senses and experience for things like stone selection, engraving, painting and drying, all you really need is a devout heart. Looking at each of the Mani stones is similar to facing the Buddha and reading the script one more time." Tsering Naimei says that learning to engrave is not only for having a profession or survival, it is more so a way to express emotions.
A Mani stone engraving training course was started in the new village, and a group of engravers was cultivated. Now the village boasts 20 individuals that have a Mani Stone engraving certification issued by the Golmud Employment Agency.
Yet, Tsering Naimei's exquisite skills really don't come from training, he says that the six syllable Mantra are engraved through the faith in one's heart, and that he more so wishes to create based on the desire deep in his heart. So in this way, each stone beholds emotion and will not be confined to one stylization.
In comparison with regular Mani stone carving, Tsering Naimei's patterns are diverse, the biggest of which are 30 cm oval pieces.
The "Mani" originates from the six syllable Mantra ("Om Mani Padme Hum"), and stones that have "Mani" on them have earned the name "Mani Stones".
Xin Xiangdong, director of the Golmud Ethnic and Religious Affairs Department, said that devout believers believed that Mani stones can bring to people good luck according to their wishes, but the crude yet exquisite Mani stones also reveal the easy going and open-minded personality of Tibetan people.
Related News
;  

Mani stone refers to the stone engraved with Buddhism scriptures or the portraits of deity, and is regarded as the eternal belief engraved in stones.

 

The Beijing Publishing House has currently issued an album named "Tibetan Mani Carving" to illustrate the religionary and sacred Mani stone craving in Tibet.

 

As a sacred religious activity, Mani stone carving is a popular scene in Tibetan inhabited areas that have a prosperous religious atmosphere.