Lhasa: Journey to 'roof of the world'
2016-08-08 16:56:07 | From:chinadaily.com.cn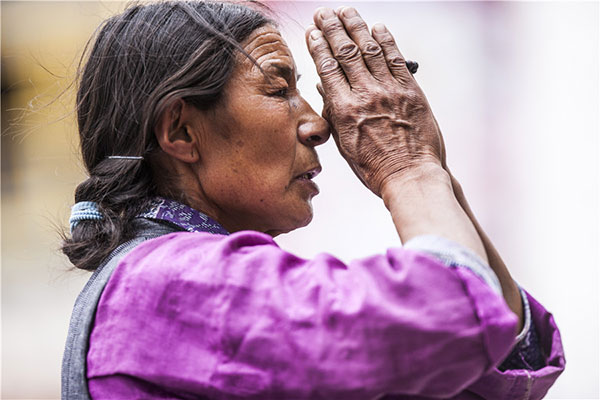 A devout Buddhist prays in Lhasa, 2012. [Photo by Xia Baohe/All rights reserved by chinadaily.com.cn]
More photos: The glimpse of Tibet
Her hands were stretched out in front of her as if she was trying to grab something, her chest and stomach were pinned to the road and the tips of her toes were touching the gravel.
She was wearing a brown T-shirt, although it had so much dirt and mud on it that it could very well have been green. Her jeans and shoes too were covered in dust.
The image of this woman lying in the middle of a busy shopping street in Barkhor Square in Lhasa has abided deeply in me after a trip to the "roof of the world" to attend the Tibet development forum.
As she stood up, joined her palms together and again prostrated on the road in front of Jokhang Temple, the holiest site for Tibetan Buddhist, I began to understand why Tibet is so special.
Outwardly Lhasa, with its gleaming highways, shopping malls and fast-food restaurants, including a KFC, looks like any modern city. But it still has its old-world charm.
In front of Jokhang Temple, the faithful pray and prostrate, with some prostrating for more than one and a half year on the road from their hometowns in Sichuan or Gansu provinces to Lhasa.
Inside the red and white Potala Palace, the jewel of Lhasa, the smell of incense, the passageways that are so narrow that only one person can walk at one time, the rows and rows of ancient scriptures stacked on the walls and crimson-robed monks sitting on thick mattresses chanting prayers transport the visitors to a different era.
Then there's the magic of live-action drama of Princess Wencheng, an epic show that tells the story of marriage of a Chinese princess to a Tibetan king. It is held in the open every night at the foot of a mountain. The whole spectacle – the 800 dancers and singers, the princess's golden outfit, the drums, the display of lights on the slopes of the hills – has to be experienced firsthand to appreciate its scale and grandeur.
There was a time when traveling anywhere in Tibet was a back-breaking effort, but not anymore.
Cruise to Lhasa's neighboring areas Shannan and Tsedang on highways surrounded by Himalayas on one side and Nyenchen Tanglha mountain range on the other. The spell of the sky-high peaks is only broken periodically by the crystal-clear waters of Lhasa River, a tributary of the Yarlung Zangbo River (Brahmaputra River).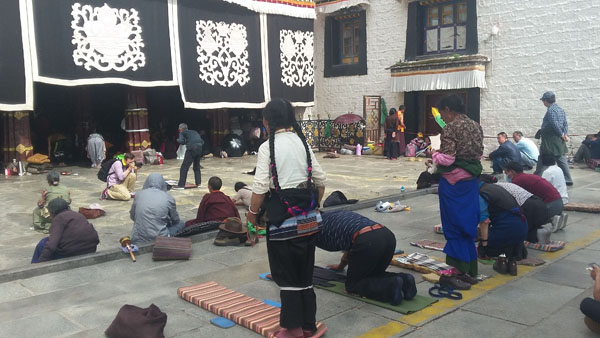 Devotees prostrate themselves in front of the Jokhang Temple, the holiest Tibetan Buddhist site, on Bakhor Street in Lhasa, Tibet, July 4, 2016. [Photo/Faisal Kidwai]