"Hand-in-Hand" Chinese and Tibetan students summer camp starts
2017-07-26 15:07:58 | From:China Tibet Online
On July 17th, 240 Chinese and Tibetan teens joined the "Hand-in-Hand" Chinese and Tibetan students summer camp in Chengdu, Sichuan. The students are from Zigong, Panzhihua, Suining, Ziyang, Aba and Garze Tibetan Autonomous Prefecture.
The summer camp is a public interest event for Chinese and Tibetan students. The camp's theme of "Ecological Development & Healthy Growth" is designed for building students' understanding and awareness of ecological development concept, experiencing ecological development achievement, and practicing ecological development. Via entertainment, learning, and growing together, the students also learn about ethnic unity and national cohesion.
At the camp's opening ceremony, the Chinese and Tibetan students presented excellent art performances. In the next four days, the campers will listen to reports on ecological development, take part in character-building outdoor training, hand-in-hand poetry competitions, and visit the Museum of Sichuan Province.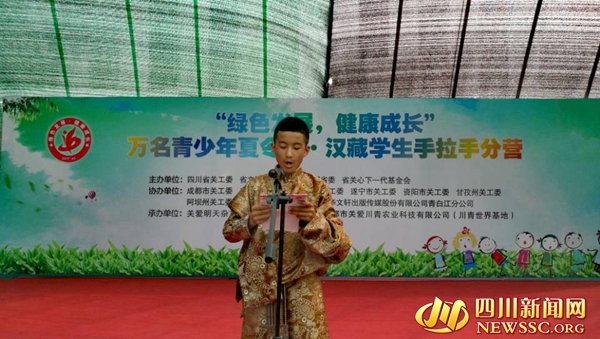 A Tibetan student representative is giving a speech at the opening ceremony. [Photo/newssc.org]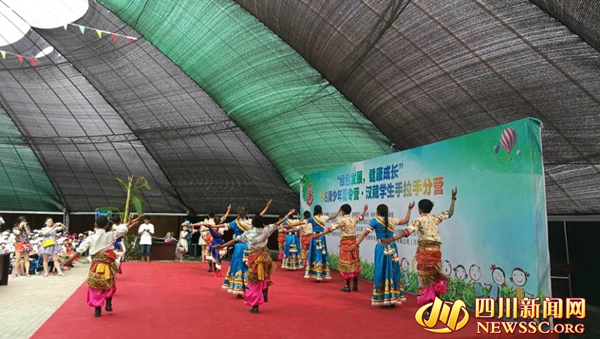 Tibetan students are performing at the opening ceremony. [Photo/newssc.org]
Related News
;  

The Civil Aviation Authority of Nepal (CAAN) has granted approval to China's Tibet Airlines to conduct four flights a day on the Chengdu-Kathmandu route, an official of the CAAN said.

 

17 overseas Tibetans living in 11 countries and Taiwan, paid a visit to Sichuan Province on July 18. The visiting group visited Kangba TV and Chengdu Research Base of Giant Panda Breeding.

 

As many as 120 wild golden monkeys were first photographed by forestry police officers from Baoxing County, Ya'an City, southwest China's Sichuan Province.