Cool thin air blows across the plateau in the bright sunlight. The only sound is the deep mesmerizing hum of the monks at prayer. The huge golden statue of Buddha stares down, serene and calm amidst fumes from the huge amount of incense burning before him. Monks shuffle along the corridors silently, hurrying to their prayers with a calm that is impossible to breach. That is Tibet, the land of Buddhist monasteries, massive mountain peaks, spectacular lakes, and a serenity that seems to emanate from the very land itself. Set in the far west of China, lying on the world's highest plateau, this amazing land has long been a wonder for travelers from the west. Since the days of Joseph Rock and the National Geographic articles on Tibet, this unique land has held a mystical attraction for travelers. And it is actually easier to get there now than it has ever been.
The first thing you need to do before even considering a trip to Tibet is to find a decent and reputable Tibet Travel Agency, as you will not be able to get into Tibet without one. The Tibet that is known in the west, the land of monasteries and mountains, is known in Asia as the Tibet Autonomous Region, and is a province of China. Access to Tibet for international travelers is strictly controlled, but it is possible to get in without any hassle if you know how.
Independent travel is no longer allowed in Tibet, so all international travelers need to be on a pre-arranged tour of the region with a registered travel agency, such as Explore Tibet. As one of the largest Tibet tour operators, based in the capital of Lhasa, Explore Tibet can handle all of your tour requirements, from helping you to decide which tour to take, to booking your accommodation and flights or train tickets to the region.
Getting There & Transportation
There are two ways to get to Tibet, by flight or by train. Flights to Tibet depart from over two dozen airports across China, as well as from the Tribhuvan International Airport in Nepal. While flights are a faster way of getting to the plateau region, they are also somewhat costly, and if you are traveling on a budget, taking the trains can be a lot cheaper.
Trains to Tibet depart almost daily for Lhasa from seven gateway cities in China, including Guangzhou, Beijing, Shanghai, Chengdu, Chongqing, Lanzhou, and Xining, and take from 22 hours to 55 hours to reach the Tibetan capital. Though the journeys may be long, but it is a comfortable trip with some amazing scenery as you pass onto the plateau.
Tibet has a defined tourist season, with the peak months being from May to October, and the low season from November to March. The plateau region can often be closed in parts of February and March for the Tibetan New Year celebrations, known as Losar. However, depending on where you are traveling to in Tibet, it is possible to visit many parts of the region throughout the year.
Visa and Permit Information
A Chinese visa is required to enter Tibet, as well as the infamous Tibet Travel Permit, the main permit you will need to enter the region and travel in the area of Lhasa.
Visas are available from the local Embassy of the People's Republic of China in your home country, and can be applied for in person, by mail, or through the Chinese Visa Application Service Centers (CVASC), depending on the requirements in your own country. Processing normally takes around three working days, and you will need to provide your original passport with six months validity remaining, two passport photos, a completed application form, proof of hotel booking in China, and an itinerary list for your trip to China (which should not include Tibet).
Tibet Travel Permits
The Tibet Travel Permit is only available to tourists once you have booked your pre-arranged tour of the plateau region with a registered Tibetan tour operator. After completing the booking and paying the fee, your permit will be applied for on your behalf by the tour operator, using a scanned copy of your passport and visa. Processing can take up to 15-20 days, so it is important to book as early as possible before your expected departure dates. Once approved and received, your permit will be forwarded to your hotel in China once you have arrived.
Other things to Consider:
Eating & Drinking
Tibetan cuisine is as unique as the people, culture, and religion of the Tibetan plateau, and is not always to everybody's tastes. While you will find a wide variety of Chinese, Indian, Nepali, and western cuisines available many Tibetan restaurants in the major cities, such as Lhasa and Shigatse, for most of your trip, you will be eating at local restaurants. The close proximity to Nepal and India means that curries and samosas can be found at the larger restaurants outside Lhasa.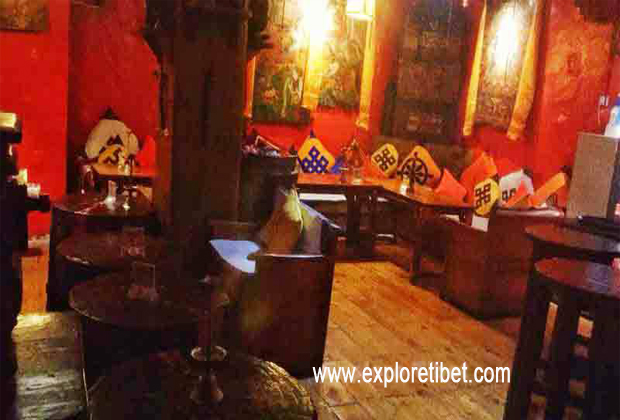 Restaurants in Tibet
Dining in Tibet is also more expensive than in mainland China, as the ingredients often have to be shipped in from China. On average, around 5-10 dollars per meal is normal, and you will not go hungry. There is little in the way of self-catering in Tibet, but you can bring packet foods with you to help with the budget. All hotels can provide boiled water. And at least try the Tibetan Sweet Tea and Yak Butter Tea. It can be strange to some, but the taste is really delicious.
Your accommodation is often included in the total tour cost, and you do have the option of choosing your hotel rating in places like Lhasa and Shigatse, as well as other larger towns with good hotels. If you want five starts, you will only find them in Lhasa, and most other towns can provide up to 3-star accommodations.
Hotels in Tibet
Outside the major cities and larger towns, however, you will find that star ratings mean absolutely nothing. Accommodation in remote areas is normally a local guesthouse that has basic facilities, often sporadic electricity, sometimes no running water, and even no bath or shower facilities. This is where you will need to rough it, especially at the Everest Base Camp where your accommodation is normally a Tibetan nomad tent. However, the experience is well worth not taking a shower for one day, as you can see how the locals live on the plateau in inhospitable environments.
Altitude sickness, often known as Acute Mountain Sickness (AMS), can be a hard illness to have, and often affects everyone when they first arrive on the plateau. Altitude sickness is caused by a thinner atmosphere at high elevation over 3,000 meters, and causes symptoms much like a bad hangover. Expect headaches, nausea, dizziness, and other similar symptoms.
Altitudes in Tibet
While severe altitude sickness can be potentially fatal, once you arrive on plateau, you will have the chance to rest and allow your body to adjust, and the symptoms will normally vanish within 24-48 hours. Make sure you rest well, abstain from drinking alcohol and strong coffee, as well as smoking, and eat a decent diet with plenty of greens and proteins. And remember to stay hydrated. The plateau may be chilly, but dehydration is a major concern, and can exacerbate the symptoms of altitude sickness.
In short, these are the main concern while preparing your Tibet Tour in Tibet, but there is nothing to worry about your permits and safety as the Tibet Travel Agency like Explore Tibet will take care of everything on your behalf.
If you are enthusiasm for trekking and adventure, then Tibet has lots of beautiful Tibet trekking tours that allow you to experiences the stunning plateau landscapes and nature, lead by experienced Tibet trekking guides and stay camping next to the Tibetan nomads family tents.