Samye Monastery in Samye Town, Lhoka City, Tibet.
Samye Town in Chanang County, Lhoka City, southern Tibet, is located at the mouth of the Samye Valley to the north of the Yarlung Tsangpo River. It is a famous historical and cultural tourism town in Tibet with rich cultural heritage and tourism resources. Zhou Xueliang, director of the Tourism Development Committee of Chanang County, Lhoka City, said that Lhoka is the birthplace of Tibetan culture. Religious temples first developed here and grew throughout the local area, gradually spreading to the surrounding regions. Samye Monastery is known as "Tibet's first monastery", and it is the birthplace of Tibetan Buddhism.
On October 13, 2016, Samye town was selected for the first group of Chinese characteristic towns with some other 126 towns. Today, there are seven China characteristic towns in Tibet, including Samye.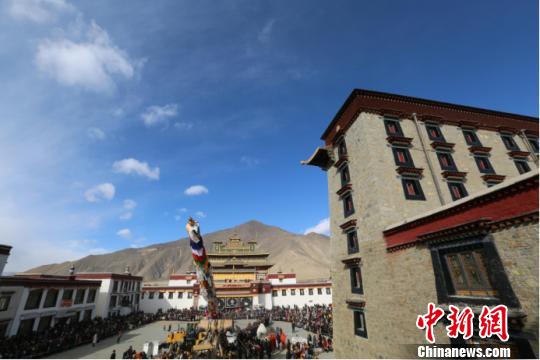 Samye Monastery in Samye Town, Lhoka City, Tibet.
Zhou Xueliang said that a three-year development work task for the characteristic town has been formulated according to actual town planning and the situation of development and construction in Samye. They have also linked Chanang County with the Lhoka Tourism and Culture Investment Co., Ltd. and outside investors, and the 2019 Samye plan construction project has been organized. It is estimated that nearly 20 new construction projects will be undertaken in 2019 with an investment of around 300 million yuan(45 million US dollars).