Hikers experience hidden sights in Tibet
2018-10-18 10:12:00 | From:China Tibet Online
Recently, over 100 hiking fans are experiencing plateau sights in autumn along the Chigu Lake in Comai County and Yamdrok Lake in Nagarzê County, Lhoka Prefecture, southwest China's Tibet Autonomous Region.

Autumn scenery of Chigu Lake.
In Tibetan, Chigu means "crescent moon," since the lake is shaped like a curved blade. The lake is sacred in the Bon school of Tibetan Buddhism. Next to the lake is a fertile meadow, where groups of wild Tibetan donkeys and antelopes are often seen.
Autumn scenery of Chigu Lake.

Sheep flocks on the Chigu meadow.
"On the way from Chigu Lake to Yamdrok Lake, there are mountains, meadows, snowy lakes, and plenty of wildlife. The natural sights are amazing; it is a great way to experience plateau scenery away from the hustle and bustle of the city." Said Yongwen Mou, Vice Mayor of Lhoka Prefecture.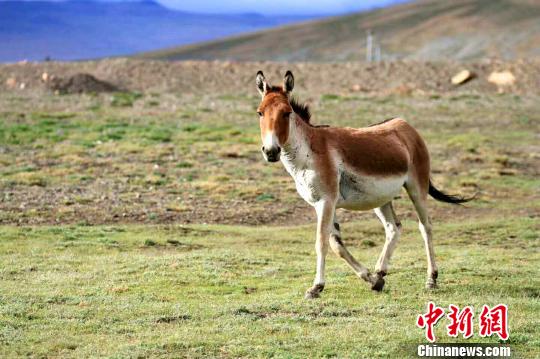 Wild donkey on the Chigu meadow.
One hiker commented that during the two days one night journey, they have seen Chigu Lake , Chigu Meadows, Gemalin Meadows, Yamdrok Lake, etc., and they also saw wild Tibetan donkeys, seasonal birds, foxes, and other wildlife along the way, experiencing many stunning hidden sights.

Wild fox on the Chigu meadow.
Related News
The 11th Panchen Lama Erdeni Choskyi Gyalpo , who is currently in Lhoka, Tibet, visited orphaned children at the Lhoka Special Education School and Children's Welfare Institute.

As a representative of religious communities, when we give teachings, we should strive to be in touch with the common people, pay attention to methods, and strive to make ourselves easily understood.

Aerial photo taken on May 27, 2018 shows the scenery of the Yamdrok Lake in Nagarze County of Shannan City, southwest China's Tibet Autonomous Region.