Beijing fish fry bred on plateau
2018-11-02 10:31:00 | From:China Tibet Online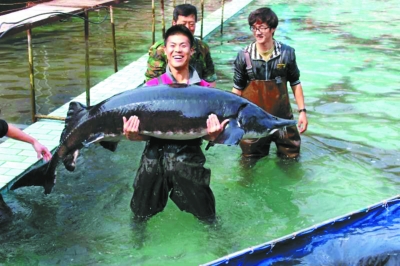 The sturgeon fish introduced from Beijing to be bred in Lhasa, capital city of southwest China's Tibet.[Photo/Beijing Daily]
In early September, a batch of fish fry—tilapia and sturgeon— from Beijing were sent to a breeding pond in Yamda Township, Dulong Dechen District of Lhasa, capital city of southwest China's Tibet, on arriving from the Beijing Capital Airport.
Looking at dense bubbles in the water, Zhou Hongliang, the deputy general manager and a senior engineer with the Lhasa Pure Earth (Group) Company and a cadre sent from Beijing to aid Tibet, was very happy, saying: "This shows that the 'Beijing fish' are very healthy and have adapted to the environment!"
With a 100% survival rate, aquaculture experts from Beijing and in Tibet are both very pleased.
Zhou Hongliang explained that Lhasa has abundant cold and hot water resources and characteristic plateau cold-water fish species, while Beijing has leading fishery technology, high-grade aquatic products, and huge market demand. The successful breeding of fish fry from Beijing will help breeders in Lhasa increase production and earn more money. And the local "cold-water fish" will also be supplied to Beijing.
Editor: Tommy Tan.