Highland barley industry helps alleviate poverty in Tibet
2018-06-01 11:15:00 | From:China Tibet Online

Locally produced highland barley products in Chamdo.
The Qinghai-Tibet Plateau has a cold and dry climate with few plant diseases and incest pests, and plants here are tolerant of coldness and drought.
The environment for growing highland barley here is especially advantageous, and residents have been cultivating it on the plateau for thousands of years. Highland barley has a wide range of medicinal and nutritional value and is recorded in traditional Chinese medicine texts such as the Compendium of Materia Medica and the Jingzhu Materia Medica from traditional Tibetan medicine. The extensive cultivation of highland barley is also an important factor for human reproduction and development on the plateau.

The assembly line to produce highland barley cereal and its texture are similar to cereal, but the flavor is unique.
Today in Chamdo, known as the "Pearl of Eastern Tibet", the production of highland barley has entered a "new era".
In 2015, a local specialty agricultural product development company invested in the construction of 100,000 tons of high-tech, in-depth processing industrialization projects in the Chamdo Economic Development Zone and developed an entire chain of industries for the cultivation, processing, and sale of specialty agricultural product resources in Tibet as represented by highland barley.
After conducting some research, they developed a series of products including instant highland barley cereal, husked highland barley, roasted highland barley flour, dried barley noodles, and cold noodles, all of which retain a high amount of functional components for "cleansing the intestines, regulating blood sugar, lowering cholesterol, and improving immunity".
At present, the company has established main sales networks in Chengdu, Chongqing, Taiyuan, Beijing, Shanghai, and Guangzhou.
In 2016, the company obtained a self-export license, and products successively entered markets in Hong Kong and Macau.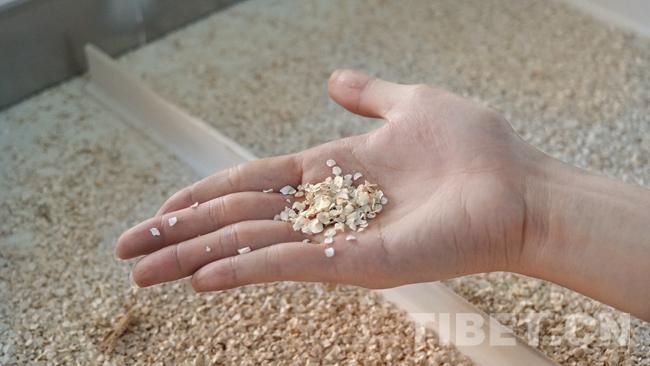 Processed high barley cereal
This highland barley processing project has brought real benefits to the local people.
According to statistics, after implementing the project, 100,000 tons of highland barley can be produced each year, which can increase the incomes of farmers and nomads on the raw materials production base by more than 55 million yuan (8.57 million US dollars) and increase the incomes of more than 30,000 impoverished households on the planting base. It can also provide more than 450 jobs, of which more than 300 ones are provided to impoverished people.
Editor: Tommy Tan.
Related News
Founded this year, the Mount Qomolangma environment squad has 30 members. Dondrup is a garbage picker at the base camp of the northern face of Mount Qomolangma, the world's highest peak.

Pema Wanggyal used to be an ordinary herdsman living in Shongpa, a small village at the side of Lake Manasarova. Three years ago, he was assigned a new job - a ranger of the "holy lake".

Lake Mapam Yutso is in northern Pulan County of Ngari Prefecture in Tibet, one of the critical "International Wetlands" designated by the Wetlands International.