Wu Yingjie: strengthen construction of farmland water conservancy facilities
2017-05-08 09:16:07 | From:China Tibet Online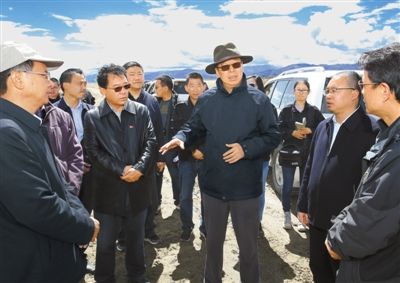 Wu Yingjie, Party chief of southwest China's Tibet Autonomous Region, come sto Konggar County and Chanang County, Lhoka, to carry out an on-site inspection of the farmland water conservancy project. [Photo/Xizang Daily]
Recently, Wu Yingjie, Party chief of southwest China's Tibet Autonomous Region, came to Konggar County and Chanang County, Lhoka, to carry out an on-site inspection of the farmland water conservancy project. He pointed out that it is necessary to strengthen the region's construction of water conservancy infrastructure, further promote structural reform in the supply side in agricultural and animal husbandry industries, so as to promote increased production and efficiency and increase income for farmers.
The irrigation project that Wu Yingjie inspected is located in the middle reaches of the Yalutsangpo River's north bank. The construction area covers four counties (Konggar, Chanang, Nedong and Sangri), ten villages (towns) and 37 administrative villages. The total irrigation area is 350,600 mu (2,373 hectares).
After inquiring about the water supply, storage capacity, water channel construction, the irrigation area and other relevant information, Wu Yingjie pointed out that water conservancy is the lifeline of agricultural industries and that efforts should be made to speed up supporting facilities construction of large and medium-sized irrigation areas and water saving reconstruction. In terms of new fields, it is necessary to implement collective management and promote large-scale operation. If the land is suitable for farming, then farm; if suitable for herding, then herd; if suitable for forest, then plant. It is also necessary to develop favorable policies and encourage large-scale growers from outside the region to come and invest, teach local people technical skills and help increase their income.
To better understand the production and living conditions of local people, Wu Yingjie came in person to the working site of Arza Village. Villager Tsering told Wu Yingjie that he can receive 160 yuan (23 US dollars) per day by working at the nursery base for two or three months a year. With this job, he can take care of his family in spare time and what's more, it doesn't delay the agricultural and pastoral production and also can bring him added income.
Related News
;  

The newly-appointed top official of Tibet has won applause for saying people's livelihoods have been his top priority during his entire political life in the autonomous region.

 

A top government official of the Tibet autonomous region on Monday said Tibet is "full of vigor" and its people are confident that they are on par with others in the nation to achieve a "moderately prosperous society".

 

The government of southwest China's Tibet Autonomous Region plans to allocate 30 billion yuan (4.3 billion U.S. dollars) in 2017 to improve the lives of local residents.