Products made from Tibetan paper become popular
2017-09-12 09:41:42 | From:China Tibet Online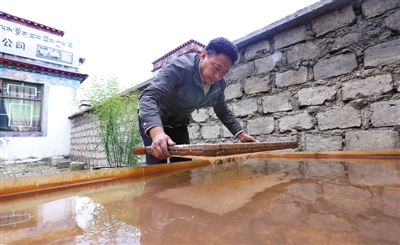 Staff is making Tibetan paper.
Tibetan paper was first invented in the mid-7th century. It is a cultural creation unique to Tibet. Princess Wencheng's arrival in Tibet brought the papermaking technology to the region. Lacking materials such as bamboo and wheat used in inland China, Tibetan artisans explored alternative materials for years before finding ways to make the one of a kind Tibetan paper.
In recent years, the market for Tibetan paper greatly expanded. Small face masks, lucky decorative items, and other products made from Tibetan paper became popular with both local shoppers and international tourists.
Related News
;  

For the first time, Tibetan yak milk, produced by a dairy company Treasure of Plateau Yak Dairy Co., Ltd in southwest China's Tibet appeared at the 28th Hong Kong Food Fair opened from August 17 to 21.

 

Bainang, about 300 kilometers from the world's highest peak, Qomolangma, has been a traditional agricultural base in Tibet. Highland barley, which is suitable for high-altitude areas, is the staple crop.