Tibet launches tourist routes to experience Tibetan New Year
2016-01-12 14:22:58 | From:China Tibet Online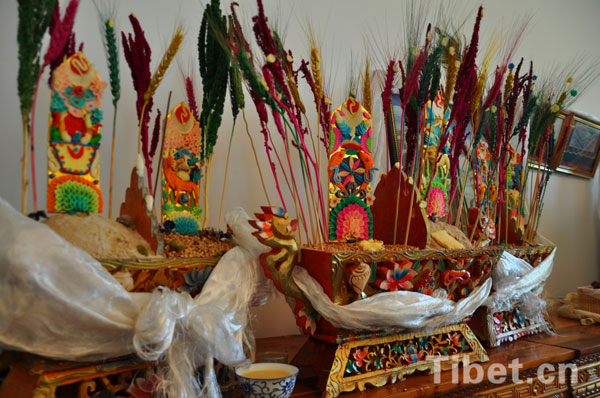 Losar, the Tibetan New Year, falls on Feb. 9 this year. Some travel agencies in Tibet Autonomous Region have launched tourist routes for "in-depth experience of the Tibetan New Year".
Losar is the grandest festival with the richest folk flavor among the numerous Tibetan festivals. During this festival, various kinds of folk activities will be held in Tibet.
So far, the Tibet China Youth Travel Service, Ctrip and other agencies have launched a number of tourist routes to experience Tibetan New Year, including such activities as visiting the Potala Palace, walking around the Jokhang Temple, visiting Tibetan households to learn making buttered tea, tasting "Gutu" (a kind of dough drops) and taking part in the ceremony of "dispelling the ghosts". Tourists can also enjoy the Tibetan New Year Gala and pray for fortune in the Zhaji Monastery.
Winter is a low season for tourism in Tibet, so there will be abundant tourist resources, and tourists needn't queue up but enjoy lower prices. For example, the ticket price of Potala Palace is 200 yuan (32.2 US dollars) per person in peak season but only 100 yuan (16.1 US dollars) per person in low season. Hotels and air tickets will also have a greater degree of discount.
It is not cold in winter in Tibet. Lhasa is a veritable city of sunlight. Local daytime temperature often reaches over ten degrees centigrade. In addition, the traffic facilities have been increasingly improved. More and more tourists choose to come there to celebrate Spring Festvial and Losar. Relevant data show that during the 2015 Spring Festival and Tibet New Year, Lhasa received 274,400 tourists, including over 85,000 staying overnight there.
Related News
;  

Tibet Autonomous Region in southwest China saw a record 3.63 million air passengers in 2015, up 15.2 percent from the previous year, regional civil aviation statistics show.

 

Tourism revenue in Lhasa, capital of China's Tibet Autonomous Region, will double in the next five years, accounting for over 40 percent of local econ