Free surgery helps cataract suffers regain eyesight in Tibet
2018-04-12 11:18:57 | From:China Tibet Online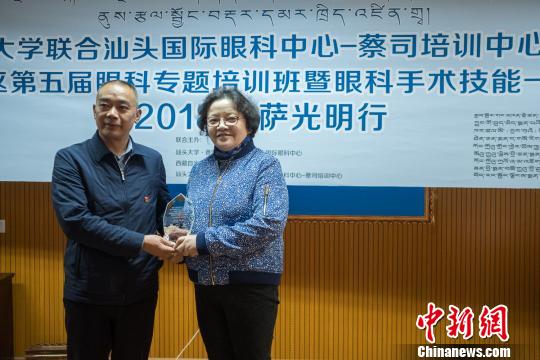 The Tibetan Hospital of Tibet Autonomous Region gives a medal of acknowledgement to Shantou International Eye Center. [Photo/China News Service]
Free medical clinic and eye surgeries have been provided by experts to cataract patients in southwest China's Tibet Autonomous Region during a three-day voluntary program jointly hosted by Shantou University and Shantou International Eye Center from south China and Chinese University of Hong Kong starting from April 8.
Due to the high altitude and strong UV rays, Tibet has a high incidence of eye diseases. Since 2014, the Shantou International Eye Center has worked with volunteer eye doctors from across China in helping patients regain eyesight in Lhasa, Nyingchi, and Shannan.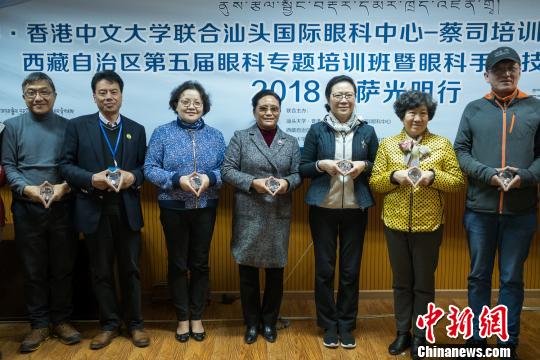 The Cataracts Surgery Training Center of Tibet Autonomous Region gives medals of acknowledgement to volunteers. [Photo/China News Service]
Related News
;  

The poverty relief program featuring the raising of Tibetan chickens has also greatly boosted residents' income and improved their lives in Gengzhang Village, Nyingchi, Tibet.

 

In southwest China's Tibet, there were a group of construction workers who worked hard to build a road in 1950 with basic tools like hammers, steel chisels, and shovels.

 

Combined with the ongoing collection and digitization of Tibetan cultural elements, it is expected to be the world's largest digital platform for Tibetan literature.