Labrang Monastery repairs 10 temple halls in four years
2017-06-28 12:45:02 | From:China Tibet Online
After four years of large-scale renovations, Labrang Monastery in Xiahe County, Gannan Tibetan Autonomous Prefecture, Gansu Province recently completed repair work on 10 temple halls, which are now gradually being opened to the public.
The renovations were done in the spirit of "repair the old as before" principle, restoring main part of Buddha halls, murals, painted colorful decorations, and others. This is the first large-scale renovation of Labrang Monastery since its establishment more than 300 years ago.
Labrang Monastery is one of the six major monasteries of Gelug sect in Tibetan Buddhism and is known as the "World School of Tibetology". In history, it had supposedly 108 branch monasteries (in fact, the number is far greater), and was once the political and religious center of Gannan. Now, it has the most complete Tibetan Buddhist teaching system in China. In 1982, the monastery was identified as a national key cultural relic protection unit.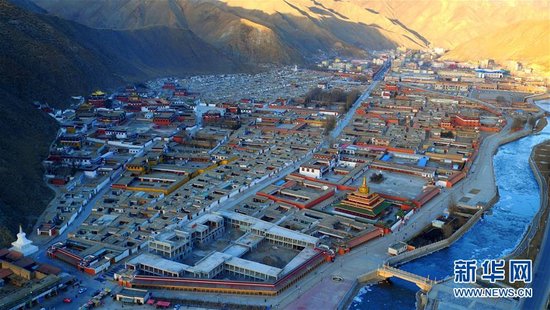 Panorama of Labrang Monastery.
Related News
;  

Religious dances were performed by monks of Labrang Monastery in Xiahe County, northwest China's Gansu Province on February 10, 2017.

 

Labrang Monastery, known as the world's institution of Tibetology, held its annual Buddha-show festival on Feb.9.

 

Labrang Monastery is the political and religious centre of this area and one of the six great monasteries of the Gelug (Yellow Hat) school of Tibetan Buddhism.