Dance drama themed on Thangka painting performed in North China
2018-01-19 10:39:29 | From:China Tibet Online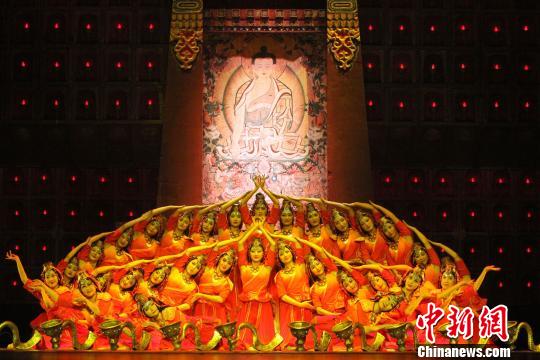 A large-scale original ethnic dance drama themed on Thangka painting was staged in Tianjin in North China in the evening of Jan. 13, 2018. [Photo/chinanews.com]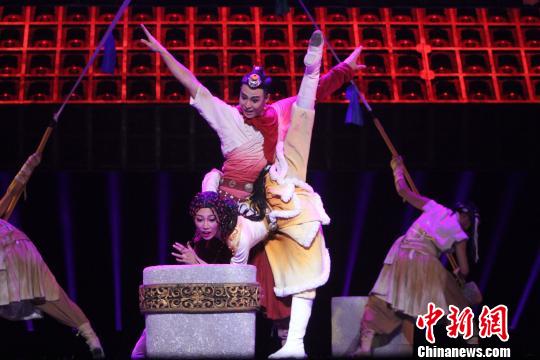 A large-scale original ethnic dance drama themed on Thangka painting was staged in Tianjin in North China in the evening of Jan. 13, 2018. [Photo/chinanews.com]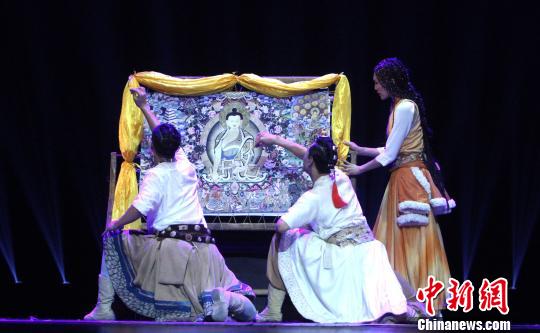 A large-scale original ethnic dance drama themed on Thangka painting was staged in Tianjin in North China in the evening of Jan. 13, 2018. [Photo/chinanews.com]
A large-scale original ethnic dance drama themed on Thangka painting was staged in Tianjin in North China in the evening of Jan. 13 and impressed people with its unique ethnic features and outstanding artistic skills.
Named Thangka, the drama tells the story of Thangka painters devoting their lives to inherit and promote the art.
Thangka painting is an important part of the Regong art of northwest China's Qinghai Province.
As a painting form of Tibetan culture and art, Thangka painting features traditional craft and distinctive ethnic characteristics.
Created from 2016, the dance drama started to perform in Qinghai, Beijing and Tianjin successively from Dec. 26, 2017.

Editor: Tommy Tan.
Related News
;  

Thangka, an original ethnic dance drama of Qinghai Province, staged in Tianjin, Jan. 13, receiving overwhelming response from audience with its unique ethnic features and superb artistic skills.

 

Thangka, a Tibetan Buddhist painting on cotton or silk appliqué, is the treasure in traditional Chinese art.

 

A giant thangka painting scroll titled "Grandmaster: the 10th Panchen Lama" won the "longest thangka painting scroll in the world" and "most figures drawn on a thangka painting scroll" awards.