Giant thangka paiting earns two world records
2017-12-06 11:23:38 | From:China Tibet Online
Recently, a giant thangka painting scroll titled "Grandmaster: the 10th Panchen Lama" won the "longest thangka painting scroll in the world" and "most figures drawn on a thangka painting scroll" awards by the World Record Association.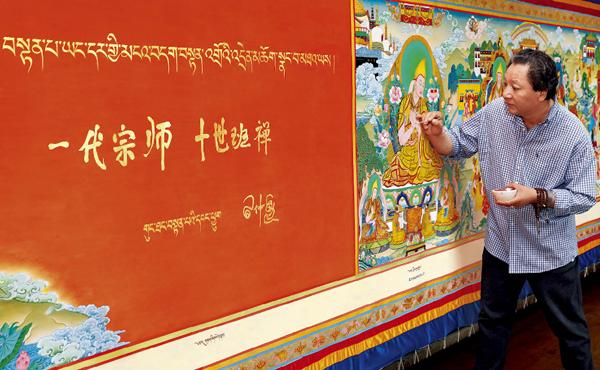 Giant thangka painting scroll "Grandmaster: the 10th Panchen Lama"
Started in 2012, the thangka painting scroll was created by Samgye Bona, the arts and crafts master of northwest China's Qinghai Province, and more than 60 other artists.
With 1.8 meters high and 56 meters long, the scroll takes the unique form of ethnic Tibetan painting and combines it with the special features of Regong art. Taking the founding of New China and Tibet's peaceful liberation as the main theme, it embodies the motif of "ethnic unity" between China's 56 nationalities. There are more than 2,500 figures and scenes of China's mountains and rivers depicted on the scroll, fully demonstrating the efforts the 10th Panchen Lama made in safeguarding ethnic and national unity during his whole life.
Editor: Ana Wu
Related News
;  

The world's biggest silver painted thangka was unveiled in Dunhuang, Northwest China's Gansu province, on Wednesday.

 

For thousands of years, thangka paintings have been placed at temples. Now, painter Orgyan Chopel is giving this sacred art a contemporary look.