Painter gives ancient thangka art a contemporary look
2017-07-11 09:49:02 | From:China Daily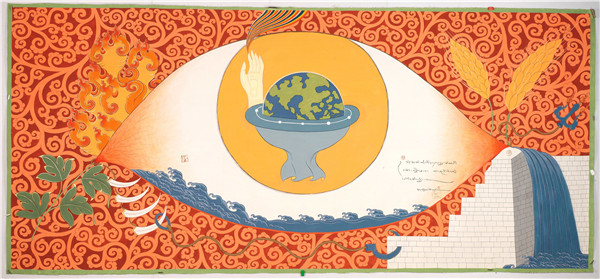 Orgyan Chopel, a Living Buddha, gives the sacred art of thangka a modern look by using symbols. [Photo/China Daily]
For thousands of years, thangka paintings-a traditional Tibetan Buddhist art-have been placed at temples.
Now, painter Orgyan Chopel is giving this sacred art a contemporary look.
The Tibetan artist's solo show, which begins at Beijing's Yilian Art Center on Saturday, features 45 thangka paintings done since 2011.
Unlike traditional thangka works, which feature Buddha figures, Chopel's paintings have symbols derived from Buddhism, such as a cloud, a temple and a lotus base.
"I try to do what a traditional thangka painting does but with symbols that are easier to understand and accept," says the 42-year-old artist, who is also a Living Buddha at the Ganden Monastery in Lhasa, capital of the Tibet autonomous region.
In his paintings, Chopel includes poems, which express the Buddhist thought behind them.
For instance, he wrote that flowers bloom in the heart because the heart has its seed, while they bloom in one's eyes because in the eyes is the water they need.
Accompanying the poem is an abstract thangka painting, with symbols like the Buddha's eye and heart lying on the clouds.
Jeff Watt, a scholar of Chinese Tibetan art, says that Chopel has turned traditional thangka paintings into contemporary art by using symbols,which allows the artist to communicate with a broader audience.
Orgyan Chopel, a Living Buddha, gives the sacred art of thangka a modern look by using symbols. [Photo/China Daily]
"At first, I was not sure about his art. But the more I look at it, the more I like it," says Watt, who has researched Tibetan art history for decades.
"His art is fresh and new, much like figurative surrealism. Viewers can have their own understanding of his paintings," he adds.
The Chengdu-based artist was picked as an incarnated lama at age 13 in his hometown in Garze county in Sichuan province.
And since then, he has lived in many temples learning about thangka paintings, music and Buddhism.
When he was 16, he could paint a traditional thangka independently. But after years of studying, he wondered if people would understand this kind of Buddhist art.
In 2011, Chopel started to use abstraction in traditional thangka art.
"Traditional thangka is very comprehensive. It includes not only Buddhism, but also medical science, astronomy and math. People have to learn a lot before they are able to appreciate a traditional piece," says Chopel.
Orgyan Chopel, a Living Buddha, gives the sacred art of thangka a modern look by using symbols. In his paintings, Chopel includes poems, which express Buddhist thoughts. [Photo/China Daily]
He says simplifying traditional thangka paintings into symbols is "a development of the old art for a contemporary art world".
All the materials and techniques in Chopel's works are those used in traditional thangka paintings, but his works are contemporary.
Wang Chunchen, an art professor at the Central Academy of Fine Arts, says that research into thangka art was neglected earlier, but it has attracted many scholars, collectors and museums since 2000.
"Chopel is one of those artists who has given a new life to traditional thangka paintings. He translates obscure Buddhism into simplified patterns and makes it more accessible," says Wang.
If you go
11 am-6 pm, through Aug 20. Yilian Art Center, No 2 Xibahe Road, Chaoyang district, Beijing.
Related News
;  

The Khentse School of thangka painting, founded by Khentse Chemo, was popular in the mid and late15th century in the Lhoka and Shigatse regions of Tibet.

 

Beyond its stunning scenery, Tibet Autonomous Region is well known for its unique Buddhist culture, with its beautiful and colorful Thangka art symbolic of its long history and traditions.

 

An exhibition on Miansa thangka was held on May 4th at the Mass Art Gallery of southwest China's Tibet Autonomous Region.